The Sherry-Netherland named the #1 Top Hotel in the United States by TripAdvisor
We strive to deliver a world-class experience at The Sherry-Netherland hotel with a blend of classic luxury, modern comforts, lavish amenities and unsurpassed service that makes for an unforgettable stay for elite New York travelers. We consider it high praise to hear our guests proudly say "We're at The Sherry," and appreciate being the preferred choice among New York City luxury hotels.
---
Spend a week in the heart of New York, take the time to visit our museums, go to the theatre, enjoy fine dining, take leisurely walks through Central Park, in short, stay in New York as if you live in New York. Pay for five nights, and get two additional nights FREE! This offer cannot be combined with any other offer. Must be booked directly with hotel. Please call 877.743.7710 for availability.
Among our favorite New York City hotel reviews:
Toni W via TripAdvisor

I could not have found a better hotel in New York. It had the best location in the city, right on 5th and the SouthEast corner of Central Park. The staff was really great and helpful. The entire interior was beautiful with a mural on the ceiling in the lobby and paintings all around.

Stayed November 2016

fotolisa via TripAdvisor

I absolutely loved staying at the Sherry Netherland. As soon as I returned home, I was thinking of another time I could go back. So I booked another trip for February 2017. The service and room was just beautiful. I will never stay anywhere else in NYC except for the Sherry. The location is also wonderful across the street from Central Park and the subway is around the corner. This hotel is definitely 5 stars and more!

Stayed October 2016

cozamar via TripAdvisor

We stayed for our third time at The Sherry. The room was very clean, spacious and comfortable The staff were very efficient and friendly. If we return to NYC we will definitely return to The Sherry Netherland hotel.

Stayed October 2016

NYCLOVER13 via TripAdvisor

I can't say enough about this hotel! I seriously feel like it's my home away from home! The rooms are big and love the way they are decorated! The staff is very attentive and make you feel like family.

Stayed October 2016

Janice H via TripAdvisor

Love this hotel. The staff is amazing; attentive, warm and always saying "welcome home." Love having an elevator operator 24/7 - one of the few hotels left in NYC to provide this service. Rooms are spacious and suites are terrific, with glorious park views. Ate breakfast only in Cipriani and was surprised the prices were so reasonable. Great omelets and excellent service. Step outside and there is Central Park, Bergdorf Goodman and the best of NYC. Elegant, with residential feel. It's marvelous here!

Stayed September 2016

Bri H via TripAdvisor

The Sherry-Netherland is as good as it gets in NYC, and that is made obvious as soon as you walk into the lobby and stand under the breathtaking fresco. We were absolutely beyond impressed with our city view room and its upscale modernity. The location is in a prime spot on 5th Ave right across from Central Park. We cannot thank the fantastic staff at the Sherry enough and look forward to staying at this exquisite hotel again.

Stayed September 2016

Christina Seong via Google+

It was a spacious, beautiful room and the hotel staff were very friendly and courteous.

Stayed August 2016

Gena R via TripAdvisor

When we first booked this hotel I looked up its history and found that it has been an iconic NYC Institution since its inception in the 1920's. "We're at the Sherry" has been a buzzword phrase for this hotel referring to a stay there as being a source of pride and style. We were not disappointed as I felt we were transported to a time where first class service was expected and appreciated, being treated as a family member there immediately at check in. When you walk in you are greeted by a newly restored lobby area whose ceiling artwork has been impressively restored to its original glory. The elevators are staff-operated and display ornate hand-painted wooden panels. Fresh cut flowers adorn the lobby, hallways, and guest rooms giving this place an aura of living art. The whole staff is friendly, helpful and personable which adds to the feeling that you are right at home. The classy, exclusive Cipriani restaurant attached to the hotel, is run by the legendary Sergio Vacca and his young protege Jordy, who ensure that they get to know you so that their service to you becomes instinctive and provided with that "Sherry Style". The staff and the ambiance of the restaurant make dining there a warm and memorable experience. I would highly recommend this hotel to anyone traveling to NYC if they are looking for a unique, service oriented experience.

Stayed August 2016

Pran99 via TripAdvisor

After much research and deliberation, my husband and I settled on this hotel for our stay in NYC and we were definitely not disappointed! An impressive lobby and reception area greets you with beautifully ornate decor exuding old world charm and glam. The service is excellent and the staff friendly and helpful. Our room was spacious and comfortable. Especially enjoyed the complimentary drinks! Finally, the best part of this establishment is the location! Close to subways, right across from Central Park and within walking distance of most attractions. A must try is the breakfast at Sarabeths up the street! We had a wonderful stay here and would highly recommend it to fellow travelers.

Stayed August 2016

pamela c via TripAdvisor

Recently enjoyed a short stay at the Sherry Netherland Hotel. The location near Central Park, great shopping, and tons of restaurants was fabulous! I love the old-world luxury atmosphere of the building and lobby, which also extended to the beautifully appointed guest room. Everything was sparkling clean, and the staff were very friendly.

Stayed August 2016

Jimmy Zisson via Facebook

While there are several really great hotels in New York City, the Sherry Netherland has been my home away from home for more than 40 years precisely because it doesn't feel like a hotel, it feels like home, or like you'd want your New York home to feel like.

Stayed March 2017

Amanda McCorry via Facebook

The attention to detail and the attentiveness of the staff was wonderful. Our room was spacious and elegant and the bed linens were excellent. I loved the comfort and understated old world elegance here. It has the feel of a bygone era without any pretentiousness. And the location cannot be beat, you are in one of the loveliest areas of Manhattan and close to everything. I can't wait to come back and can't thank the staff enough for making our stay feel so comfortable and yet indulgent.

Stayed March 2017

Laura Singer via Facebook

Just supreme class and courtesy from the moment you step in to the moment you step out - every hotel should take their cue from the Sherry Netherlands.

Stayed January 2017

Elle D via Yelp

My husband and I stayed at a suite in the Sherry Netherland for our elopement, and we had the best weekend!! The staff went above and beyond to congratulate us and wish us well. The suite was beautiful, and was a perfect backdrop for our "first look" photos. The added bonus is that it truly feels like you are staying in a piece of New York history. Built in 1927, but incorporating older pieces from the Vanderbilt mansion, the entire building is saturated with romantic beauty. We'll have to come back soon... maybe for our 1st anniversary!

Stayed February 2017

Brenda Stewart via Google+

This was our first time at the Sherry and we hope to come back often. Everything was absolutely perfect. Check in with Tammy was smooth and efficient. She was very friendly and helpful while remaining professional. The lobby is gorgeous. Our room was beautiful and spacious overlooking Central Park. It was one of the nicest rooms that we have had,..

Stayed January 2017

Bonnie Bailey via Google+

This hotel is beautiful. The staff is extremely polite and professional and the location is A++. We walked down 5th ave, went on a morning jog through Central Park, and were able to walk to a lot of major attractions. I would definitely recommend staying here if you want to be in the best location in NY.This hotel is beautiful. The staff is extremely polite and professional and the location is A++. We walked down 5th ave, went on a morning jog through Central Park, and were able to walk to a lot of major attractions. I would definitely recommend staying here if you want to be in the best location in NY.

February 2017

Sierra Scott via Google+

I have NEVER stayed in a better hotel. EVER!!! The staff was over the top professional and helpful!!! The rooms were stunningly beautiful and the adjoining restaurant was outstanding.

December 2016
Special Offers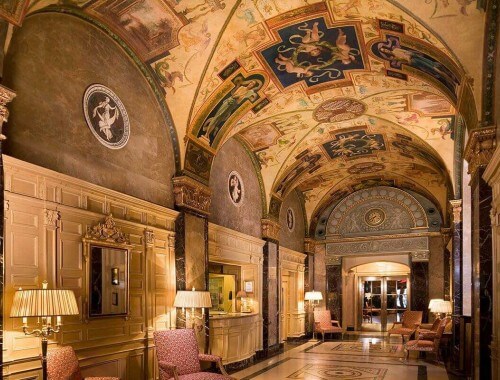 Suite Ninety Anniversary
Celebrate 90 years and book The Sherry-Netherland's Suite Ninety Anniversary package and stay in a beautiful one-bedroom suite, daily continental breakfast served via room service and a $300 credit to dine at Harry Cipriani's. Receive a bottle of champagne, a commemorative keepsake box of Louis Sherry Belgian Chocolate, and two plush terry robes to take home.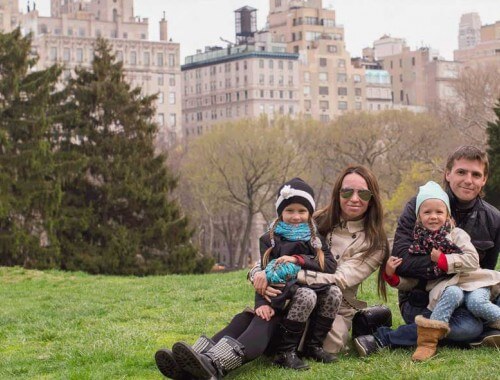 The Family Getaway
Book The Family Getaway package and receive a stuffed giraffe named Louis, four $10 MetroCard's, four tickets to the Central Park Zoo, and four tickets to the historic Central Park Carousel.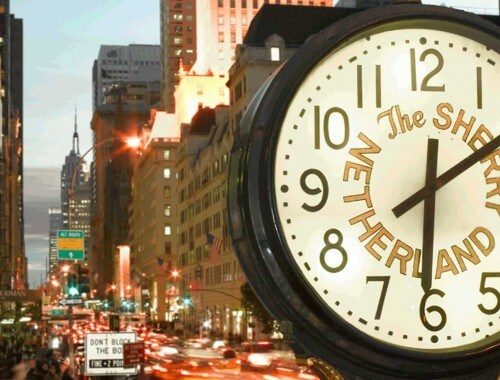 The ABC's of Luxury Shopping
Stay at The Sherry and experience the joys of shopping in our mid-town location. We will give you three $50 gift certificates, one for use at the Apple Store, one for Barneys New York, and one for Coach, to help get you started.